Lumessence Eye Creme
.5 oz Creme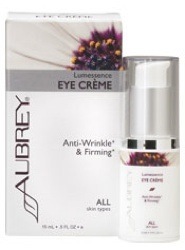 $26.50
List Price
$5.30
(20%) Discount
$21.20
Your Price
Related Products

Aubrey Organics Lumessence Eye Creme
Lumessence Rejuvenating Eye Creme by Aubrey Organics
Perfect for day or nighttime use, our elegant Lumessence formulas firm and protect delicate facial skin with proven anti-aging ingredients and a liposome delivery system.
Sheer, non-greasy cream combines hydrating herbals and vitamins with natural liposomes, microcapsules that act as a delivery system, slowly releasing moisture, antioxidants and other nutrients where they are needed most. All Natural and Vegan made with organic ingredients! The ingredients in Lumessence have been clinically tested and proven to diminish the appearance and depth of lines and wrinkles and to firm and brighten the area around the eyes. Lumessence can be worn alone or under makeup, during the day or at night. And our "airless" dispenser protects creme from contamination, keeping it safe to use near the eyes.
INGREDIENTS: Wheat Protein, Oat Protein, Wheat Extract, Lavender-Glycerin, Moisturizing Liposomes (Water, Sodium PCA, Phospholipids, Vitamin E, Xanthan Gum, Arginine, Lysine, Glycine, Proline), Humectant Liposomes (Water, Panthenol, Phospholipids, Sodium Hyaluronate), Vitamin Liposomes (Water, Phospholipids, Vitamins A, C, E), Laminaria, Rosa Mosqueta Rose Hip Seed Oil, Aloe Vera Oil, Evening Primrose Oil, White Camellia Oil, Shea Butter, Carrageenan (Red Seaweed Extract), Aubrey's Preservative (Citrus Seed Extract, Vitamins A, C and E).