Eclectic Institute
Botanical Products for Your Health
Eclectic Institute is committed to working with nature's healing power, in the preparation of botanical products which nutritionally enhance total health and well-being.

Plants have provided mankind with food and medicine since ancient times. Rich traditions have arisen on every continent involving the use of herbs for nourishing, cleansing and balancing the body, mind and spirit. Many of these traditions have been passed down and enriched with scientific understanding, and made available in the form of practical information for the maintenance of optimum health.

The Eclectic Institute was founded in 1982 by two naturopathic physicians, Dr. Edward Alstat and Dr. Michael Ancharski. At that time, Dr. Alstat was the pharmacist for the Portland Naturopathic clinic, the teaching clinic of the National College of Naturopathic medicine and Dr. Ancharski was the Clinic Director. Though in the midst of the top botanical literature, research and practitioners, they could not find high quality, botanical preparations to use in their clinic. Most herbs on the commercial market simply were not pure, vital or fresh enough to be very beneficial. They decided to develop and market their own line of botanical products using only organic herbs carefully grown and harvested and processed while fresh.


showyoutube1('XKPZ8sCwioo'); ?>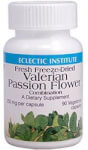 List Price:
$22.00
You Save:
$10.01 (46%)
Your Price:
$11.99
Eclectic Institute Valerian Passion Flower is for promoting tranquility and exerting a quieting, soothing effect on the nervous system.
Statements on this website have not been evaluated by the Food and Drug Administration. These products are not intended to diagnose, treat, cure, or prevent any disease, but rather are dietary supplements intended solely for nutritional use. April 22, 2018