Eclectic Institute Herbal Formulas
Eclectic utilizes the processing technique of freeze drying their plants in order to maintain their freshness and activity.

Plants have provided mankind with food and medicine since ancient times. Rich traditions have arisen on every continent involving the use of herbs for nourishing, cleansing and balancing the body, mind and spirit. Many of these traditions have been passed down and enriched with scientific understanding, and made available in the form of practical information for the maintenance of optimum health.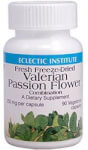 List Price:
$22.00
You Save:
$10.01 (46%)
Your Price:
$11.99
Eclectic Institute Valerian Passion Flower is for promoting tranquility and exerting a quieting, soothing effect on the nervous system.
Statements on this website have not been evaluated by the Food and Drug Administration. These products are not intended to diagnose, treat, cure, or prevent any disease, but rather are dietary supplements intended solely for nutritional use. July 17, 2018