Fungi Perfecti by Host Defense
"Scientists have only recently confirmed what ancient cultures have known for centuries: mushrooms have within them some of the most potent medicines found in nature. We know that their cellular constituents can profoundly improve the quality of human health."
Paul Stamets, Mycologist
All Fungi-Perfecti products are Certified Organic by the Washington State Department of Agriculture. They are 100% made in the USA, cultivated under strictly controlled laboratory conditions at Host Defense's facility in Washington State, supervised by Paul Stamets and his skilled staff. Each mushroom species collected by Paul from the old growth forests of the Pacific Northwest is sustainably harvested. The ecosystem remains intact and unharmed. They carefully culture the mycelium for the Host Defense products on the Fungi Perfecti Farm in a way that maintains the lowest P Value possible. This creates identical genetic matches to the mycelium found in their native habitats, ensuring the provenance and genetic vitality of each strain.
These are the same activated organic mushrooms that Paul and New Chapter have been selling for many years.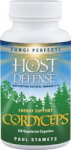 List Price:
$59.95
You Save:
$23.98 (40%)
Your Price:
$35.97
Cordyceps by Fungi Perfecti. Himalayan mountain peoples have traditionally used Cordycepsto enhance their performance during strenuous, high altitude activities. Cordyceps may have the cardio-enhancing effects of increased oxygen uptake, supporting higher endurance levels.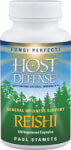 List Price:
$59.95
You Save:
$23.98 (40%)
Your Price:
$35.97
Host Defense Reishi by Fungi Perfecti grows throughout the world, found primarily on hardwood trees. This species, used for more than two millennia in Asia, has been respectfully called the "Mushroom of Immortality." This mushroom is well known as a tonic for supporting general wellness and vitality.