Vegan B-12
30 Tablets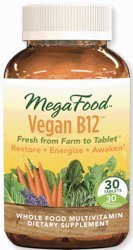 $20.56
List Price
$5.76
(28%) Discount
$14.80
Your Price
See final price in cart!
Related Products





MegaFood Vegan B-12
MegaFood Vegan B-12
Maintains Already Healthy Homocysteine Levels
100% Whole Food Nutrients
Made with synergistic vitamins B6 and folate, Vegan B12 also supports the healthy formation of blood cells necessary for optimal performance.
Supports the bodys natural energy stores, mental alertness, and overall well-being
Easy to digest and no after taste
Tested FREE of pesticides, herbicides, gluten and soy
In order to address the nutritional needs of those following a plant-based diet, MegaFood has crafted Vegan B12. A synergistic blend of B12, folate, and B6, this product delivers farm-fresh nutrition to support healthy energy levels and cardiovascular health.* Organic beet delivers betaine, which supports the efficient utilization of B12.* Without the proper cofactors delivered by foods, B12 can be difficult for the body to utilize. For this reason, we have crafted certified vegan nutrition from farm fresh, local foods to support you in optimal health.
Suggested Use
1 tablet daily. May be taken anytime throughout the day, even on an empty stomach.