Elderberry Force
30 Capsules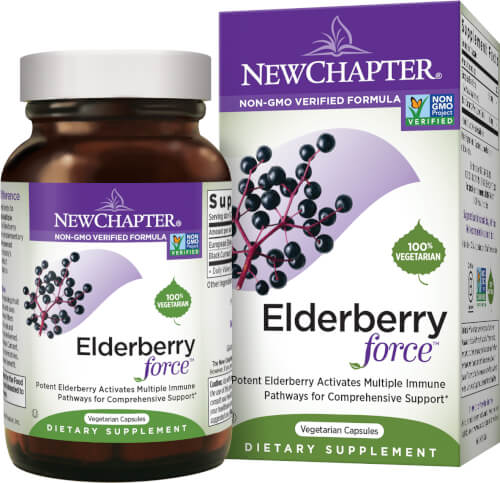 $39.95
List Price
$15.98
(40%) Discount
$23.97
Your Price


New Chapter Elderberry Force
IMMUNE SUPPORT: Made with potent Black Elderberry and Black Currant, Elderberry Force supports the body's natural immune defenses, for comprehensive immune support year-round
SCIENCE & TRADITION: Elderberry's impressive immune benefits are the subject of numerous medical studies, and well-known in traditional herbal systems
OUR DIFFERENCE: New Chapter sources ideal quality European Black Elderberry (Sambucus nigra) from Austria—its super-dark color indicates particularly high flavonoid content, for antioxidant action and more rapidly available for absorption
POWER OF ELDERBERRY: Elderberry is extracted mechanically to capture the true profile of compounds from whole Black Elderberry, 64 times more concentrated for your maximum benefit—can also be an alternative or complement for those taking Echinacea or Black Currant Seed oil.
Non-GMO Project Verified, No added Sugars (as found in Elderberry syrup and lozenges), No Solvents, Gluten Free, 100% Vegetarian, No Synthetic Fillers, Made in the USA, No Artificial Flavors or Colors
For immune support throughout the year, many people rely on the pure power of the Elderberry fruit. Elderberry is known to give serious support for the body's natural immune defenses. And while most Elderberry syrups and lozenges contains added sugars, Elderberry Force from New Chapter is different. Elderberry Force delivers all of the compounds from pure whole fruit with NO added sugars and NO solvents. Our proprietary filtration process delivers true to fruit extracts with the same profile of beneficial phytonutrients as the Black Elderberry (Sambucus nigra) fruit itself, but 64 times more concentrated. Elderberry is united with Black Currant for antioxidant action that provides additional immune support.* Elderberry Force can also be an alternative or complement for those taking Echinacea or Black Currant Seed oil.
Elderberry Force combines multiple revered herbs to promote healthy immune function through multiple pathways.
The antioxidative constituents in Elderberry unite with those in Black Currant to provide complementary immune-supportive benefits.
Our Austrian-sourced Elderberry is grown for optimal potency and delivers bioactive anthocyanins at clinically supported levels to support the bodys natural immune defenses.
Black Currant extract supports healthy microbial balance, a healthy inflammation response and helps to maintain normal cell growth.
A unique membrane extraction and use of ZERO solvents delivers the full-spectrum benefits of our active ingredients in their natural profiles.
Membrane extraction is purely mechanicalpushing fruit through a very fine filterso its simple, pure, and uses no solvents or evaporation. The unique process filters out sugar molecules while allowing the fruits natural proportions of beneficial phytonutrients to be delivered. Compared to whole Elderberry and whole Black Currant, these extracts have the same profile of rich chemistries, but are highly concentrated for your maximum benefit.