Prostate 5LX
120 Liquid VCaps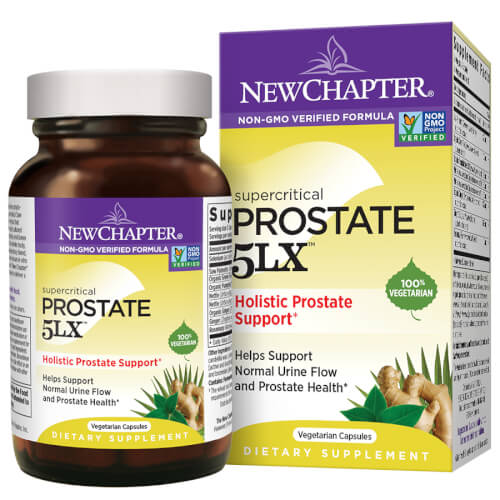 $62.95
List Price
$25.18
(40%) Discount
$37.77
Your Price
Prostate 5LX
180 Liquid VCaps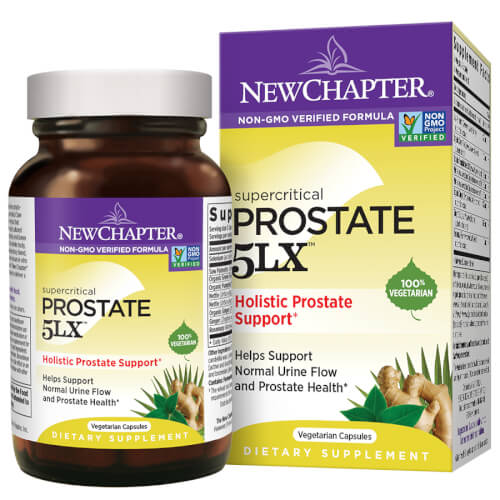 $83.95
List Price
$33.58
(40%) Discount
$50.37
Your Price
Prostate 5LX
60 Liquid VCaps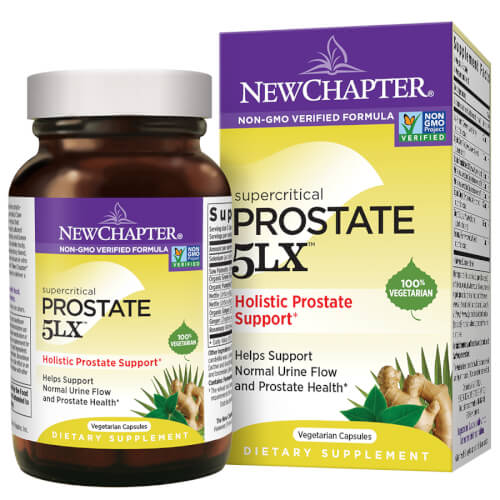 $37.95
List Price
$15.18
(40%) Discount
$22.77
Your Price
Related Products



New Chapter Prostate 5LX
Supercritical Healthy Prostate
Gluten Free
Promotes healthy prostate function and normalizes urine flow*
Modulates 5-lipoxygenase and promotes normal prostate cell growth*
Promotes healthy sexual functioning and performance*
Contains herbal anti-aging constituents that inactivate free radicals*
New Chapter has extensively researched the herbal pharmacopoeia and international medical databases and discovered that the following time-tested herbs, properly extracted and blended in the correct proportions, safely modulate 5-LO and support prostate health:*

SAW PALMETTO Most researched, effective herb for prostate health in its purest, solvent-free supercritical extract form.*

GREEN TEA Offers 51 inflammation modulating phytonutrients, with critical anti-aging and prostate-specific health benefits.*

STINGING NETTLE Two extracts provide fullest spectrum of inflammation modulating prostate-specific phytonutrients, with demonstrated clinical benefit in conjunction with saw palmetto.*

GINGER According to USDA and major university phytochemical databases, this is nature's richest herbal source of 5-LO modulators (24 phytonutrient modulators).*

SELENIUM Probiotic Nutrients trace nutrient critical to tissue detoxification and long term prostate health.*

ROSEMARY Contains numerous anti-aging constituents and significant 5-LO modulators.*

Plus: Pumpkin seed oil and extra virgin olive oil have numerous prostate health benefits and multiple 5-LO modulators.*
Suggested Use
One Liquid VCaps, two times daily. Take in the middle of a larger meal with an 8 oz. glass of water.
Supplement Facts
Two Liquid VCaps contain
%DV
Selenium (as selenium dioxide from culture media)
50 mcg
71%
Saw Palmetto (Serenoa repens) (berry) supercritical extract
320 mg
*
Organic Green Tea (Camellia sinensis) (leaf) aqueous extract
100 mg
*
Organic Pumpkin Seed Oil (Cucurbita pepo) (seed)
96 mg
*
Organic Ginger (Zingiber officinale) (rhizome) 43.2 mg supercritical extract; Ginger (Zingiber officinale) (rhizome) 36.8 mg hydroethanolic extract
80 mg
*
Nettle (Urtica dioica) (root) hydroethanolic extract 10:1
50 mg
*
Nettle (Urtica dioica) (root) aqueous extract 5:1
50 mg
*
Rosemary (Rosmarinus officinalis) (leaf) supercritical extract
10 mg
*
* Daily Value not established
Other Ingredients: Extra-virgin olive oil, hypromellose (capsule), maltodextrin,organic yellow beeswax, candelilla wax, culture media (organic gum acacia, organic soy flour, organic Saccharomyces cerevisiae [active and inactive], lactic acid bacteria [L. acidophilus, B. bifidum, L. rhamnosus], papain [deactivated] andbromelain [deactivated]), magnesium carbonate, sunflower oil and silicon dioxide.
Contains: Fermented soy and fermented wheat (as food source for Saccharomyces cerevisiae).

he wheat has been processed to allow this food to meet the Food and Drug Administration (FDA) requirements for gluten-free foods.
Gluten free. Caution: As with any dietary or herbal supplement, you should advise your health care practitioner of the use of this product.
*These statements have not been evaluated by the Food and Drug Administration. This product is not intended to diagnose, treat, cure, or prevent any disease.
Notice: The National Institute on Aging recommends that men get regular medical check-ups with a thorough prostate exam.

Research from New Chapter Organics on Prostate Health:
Prostate Health
The occurrence of prostate related illness in the West is epidemic. Killing between 40 and 50 thousand annually, prostate cancer is the second leading cause of death among men in the U.S. and for the fortunate cancer patients who survive this disease, there are often side effects of treatment that diminish the quality of life. Why is this the case? What can be done? Intense scientific research has recently led to exciting new discoveries on this important medical front. Both treatment and prevention may be within sight as study after study reveal the chemistries at play in the prostate disease process.

A Little Background
Prostate cancer is what is called a multi-stage carcinogenesis, which means it has three distinct phases of development. These phases are 1) initiation, 2) promotion, and 3) progression. Few people know that most men have early expressions of prostate cancer by the time we're in our twenties! That's the initiation phase. It's what comes next that determines whether or not this disease is going to progress in a threatening way. Are the necessary ingredients for tumor promotion in place to make the cancer grow? To put this another way, men don't die from simply getting prostate cancer: mortality is a function of the growth and proliferation of the cancer cells into other organ systems. What makes the localized prostate cancer cells flourish, grow, and spread? That's the real health issue. We are discovering that cancer cells, like any form of living tissue or organism, require a particular nutrient in order to survive. Think of prostate cancer cells as an animal that will eat only one type of food, sort of a malignant rabbit that will eat only essential carrots. No essential carrots, no malignant rabbits. This is a bizarre way of visualizing the cancer cells, but it is actually descriptive of the prostate cancer process.

Enter Chemoprevention
What if we could pinpoint the particular essential nutrient fundamental for the growth and proliferation of prostate cancer cells? What if we could then determine how the body obtained or manufacturerd that essential cancer nutrient? All that would be left is to determine how best to help the body prevent the production of that essential prostate cancer cell nutrient. In other words, how can we keep the "malignant rabbits" from their indispensable food source? This would be called "chemoprevention" but you can also think of it as starving the cancer cells. Significant research is currently being conducted into the abundance of naturally occurring chemopreventive properties found in hundreds of fresh fruits and vegetables around the world. This rich database is now available to link with discoveries being made on the fronts of medical research.

What is this exciting new research all about?
The Good News: Our bodies produce and process an incredible assortment of chemicals, each of which must be maintained in appropriate balance in order to sustain optimal health. Key to the maintenance of this balance are tiny biological processing factories called enzymes, and one of these, 5 Lipoxygenase (or 5-LO for short) has been shown to be associated with the production of a chemical called 5-HETE, without which cancer cells in the prostate cannot survive. Simply put, 5 HETE is the only food that prostate cancer cells eat it is "essential carrot" for the "malignant rabbits" that want to run wildly throughout the body. What can be done to prevent the body's creation of 5-HETE? It turns out that the 5-LO enzyme metabolizes arachidonic acid (an omega-6 fatty acid) into 5-HETE. I