Zyflamend
120 Liquid VCaps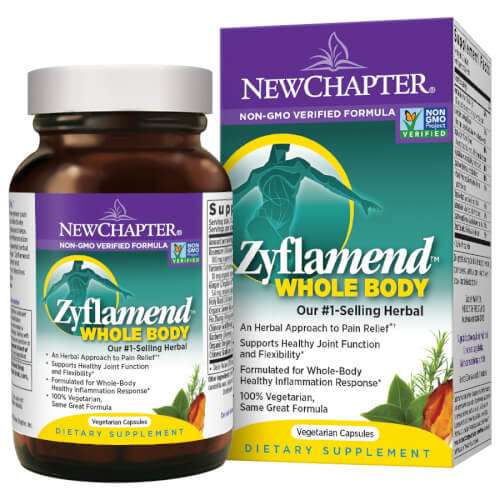 $72.95
List Price
$29.18
(40%) Discount
$43.77
Your Price
Zyflamend
180 Liquid VCaps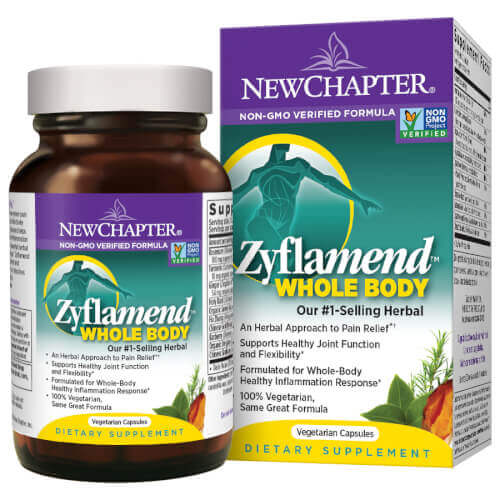 $100.95
List Price
$40.38
(40%) Discount
$60.57
Your Price
Zyflamend
60 Liquid VCaps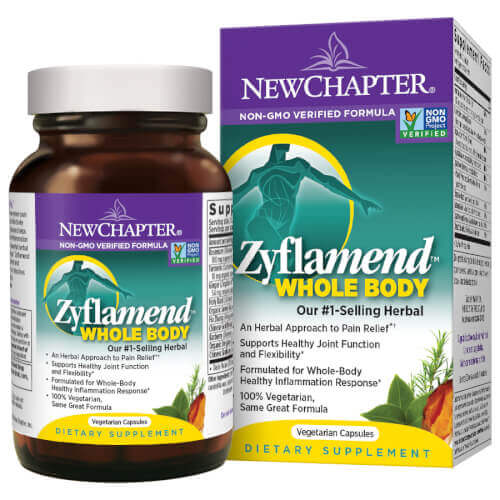 $44.95
List Price
$17.98
(40%) Discount
$26.97
Your Price
Related Products


New Chapter Zyflamend
Zyflamend 180 softgels
Zyflamend is 40% OFF! For a limited time only.
See All Zyflamend Products
Promotes a healthy inflammation response*
Promotes healthy joint function*
Promotes normal cell growth*
A Supercritical New Chapter in Inflammation Modulation*
New Chapter's patented Zyflamend formulation represents a scientific breakthrough in promoting a healthy inflammation response. Recent research studies suggest this may be an effective strategy to promote healthy joint function and normal cell growth.*



New Chapter has extensively researched the herbal pharmacopoeia and international medical databases and has discovered that the following time-tested herbs, properly extracted and blended in the correct proportions, contain at least 8 phytonutrients that may safely and significantly promote a healthy inflammation response.

HOLY BASIL (Ocimum sanctum) Contains ursolic acid, which significantly enhances detoxification and promotes a healthy inflammation response.*
TURMERICTURMERIC Unique curcumin phytonutrient complex, synergistic with green tea, significantly multiplying each herb's ability to promote healthy eicosanoid balance.*
GINGER Supercritical extract modulates both eicosanoid cascades and offers numerous anti-aging constituents*
GREEN TEA Proceedings of the National Academy of Sciences report green tea polyphenols exert a beneficial effect on healthy eicosanoid balance.* Major university database notes green tea contains 51 phytonutrients that promote a healthy inflammation response.*
ROSEMARY Dual extracts offer highly concentrated, full spectrum eicosanoid balance and support detoxification.*
HU ZHANG (Polygonum cuspidatum) Richest known resveratrol source, with each daily serving delivering the approximate equivelant of six glasses of resveratrol-rich wine.
CHINESE GOLDTHREAD AND BARBERRY Unique berberine phytonutrient complex naturally promotes a healthy inflammation response.*
OREGANO Source of large number of phytonutrient modulators (31) according to USDA database.*
BAIKAL SKULLCAP Unique baicalin phytonutrient complex, naturally promotes healthy inflammation response.*

New Chapter's Supercritical Herbal Extracts
"Supercritical" means Super Purity, Super Potency, Broad Spectrum, and No Chemical Solvents. We take nature's finest herbs and then extract and hightly concentrate (as high as 250 to 1) their precious, full spectrum ingredients. We do not isolate single ingredients or spike our extracts with synthesized additives. We deliver the wisdom of nature, with the complexity and organic nuances of the natural herb preserved for you. In fact, the supercritical process is the gentlest way to extract these delicate plant compounds in a manner to optimally preserve their potency and stability. And when you take New Chapter's supercritical extracts, neither you, nor the environment, have to contend with chemical solvents.
Suggested Use
One softgel, two times daily. Take in the middle of a larger meal with an 8 oz. glass of water.
Supplement Facts
Two softgels contain
%DV
Rosemary (leaf) 100 mg supercritical extract and 50 mg extract (23% total phenolic antioxidants [TPA] - 34.5 mg)
150 mg
Turmeric (rhizome) 10 mg supercritical extract (45% turmerones - 4.5 mg) and 100 mg ethanolic extract (7% curcuminoids - 7 mg)
110 mg
Ginger (rhizome) 54 mg supercritical extract (30% pungent compounds - 16.2mg, 8% zingiberene - 4.3 mg) and 46 mg ethanolic extract (3% pungent compounds - 1.4 mg)
100 mg
Holy Basil (leaf) extract (2% ursolic acid - 2 mg)
100 mg
Green Tea (leaf) extract (45% polyphenols - 45 mg)
100 mg
Hu Zhang (Polygonum cuspidatum) (root and rhizome) extract (8% resveratrols - 6.4 mg)
80 mg
Chinese Goldthread (root) extract (6% berberine - 2.4 mg)
40 mg
Barberry (root) extract (6% berberine - 2.4 mg)
40 mg
Oregano (leaf) supercritical extract (4% TPA - 1.6 mg)
40 mg
Baikal Skullcap (Scutellaria baicalensis) (root) ethanolic extract (17-26% baicalein complex, including baicalein and baicalin - 3.4-5.2 mg, and 0.4-0.9% wogonin - 0.08-0.18 mg)
20 mg
Daily Value not established

Other ingredients: Olive oil-extra virgin, maltodextrin, silica, yellow beeswax, and organic sunflower oil.
Capsule: Gelatin, vegetable glycerine, water, and carob.Our premium softgel capsules are prepared without any chemical solvents and are prion free.


Caution: New Chapter sells Zyflamend only as a dietary supplement, not as a drug product. Zyflamend is not promoted by New Chapter as a product for the prevention, treatment, mitagation, or cure of breast cancer, prostate cancer, or any other specific disease or class of diseases. As with any dietary or herbal supplement, you should advise your health care practitioner of the use of this product. If you are nursing, pregnant, or considering pregnancy you should consult your health care practitioner prior to using this product.


Zyflamend is not a drug product that is intended as an alternative to prescription anti-inflammatories. We suggest that you consult your health care professional if you suffer from pain and inflammation associated with arthritis.


*These statements have not been evaluated by the Food and Drug Administration. This product is not intended to diagnose, cure, or prevent any disease.



Research from New Chapter on a Healthy Inflamation Response:
Herbs to Promote a Health Inflammation Response
The COX-2 enzyme is naturally created in every one of us. It is considered by many to be stimulated by injury or some form of attack on the body. Simply put, it controls the creation of a hormone-like substance that creates inflammation. And not just the common inflammation many experience in a knee or shoulder, but also inflammation throughout the body, even in the brain of an Alzheimers sufferer. Scientists now have convincing evidence, from decades of research, that the unchecked activity of this enzyme is responsible for many forms of cancer (including colon, skin, bladder, esophagus, and pancreas), arthritis, and Alzheimers Disease.

The COX-2 Medical Revolution
Both the Wall Street Journal and the New York Times have recently proclaimed the revolutionary promise of COX-2 enzymatic inhibition. The Wall Street Journal described the inhibition of this enzyme as a future milestone in preventative medicine that stands alongside the polio vaccine and the worldwide eradication of smallpox.