Pea Protein
Vanilla flavor 736 grams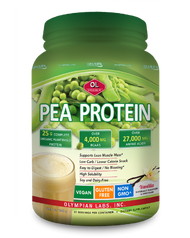 $37.99
List Price
$11.40
(30%) Discount
$26.59
Your Price
Related Products

Olympian Labs Pea Protein
Olympian Labs Pea Protein
Through a clever extraction and purification process, Olympian Labs' Pea Protein is concentrated from the normal level of 6% in fresh peas to 90% protein content. This unique process produces a protein powder that is highly soluble and easy to digest. Pea Protein is ideal for vegans, offers an excellent nutritional profile, is free of gluten, lactose, cholesterol and other anti-nutritional factors.
Non-GMO
Hypoallergenic
100% Gluten Free
Perfect for Vegans
100% Cholesterol Free
100% Plant-Based Protein
Highly Soluble & Easy to Digest
Source of Beneficial Amino Acids
Environmentally Friendly Source of Protein
Highly Suitable for Sustainable Agriculture
Origin & History: Pea Protein is a natural, vegetable-based protein powder derived from yellow peas (Pisum sativum). Yellow peas are more commonly known as split peas and are used extensively in food preparation such as in soups & purees.
Most commercially available protein powders are derived from soy, rice, eggs, or dairy, which are often problematic for those with allergic dietary concerns. Olympian Labs has chosen Pea Protein because it is a plant-based, hypoallergenic protein that yields a high biological value (65.4%). The BV is an accurate indicator of the biological activity of protein. It measures the actual amount of protein deposited per gram of protein absorbed. High BV proteins are a better choice for increased nitrogen retention, enhanced immunity and IGF-1 (insulin-like growth factor stimulation. They are superior for reducing lean tissue loss from various wasting states than proteins with a low BV score.
Suggested Use

Mix one (1) scoop (35g) of pea protein powder into eight (8) ounces of cold beverage of choice. Shake or blend to desired consistency. It can also be easily blended with frozen fruit to make a smoothie.
Supplement Facts
Serving Size: One (1) Scoop (35g)
Servings per Container: 23
Amount Per Serving
% Daily Value*
Calories
105
Calories from Fat
0
Total Fat
0g
0%
Saturated Fat
0g
0%
Trans Fat
0g
Cholesterol
0 mg
0%
Sodium
290 mg
12%
Potassium
0 mg
0%
Total Carbohydrate
1g (1,000 mg)
0%
Dietary Fiber
0 mg
Sugar
0 mg
Sugar Alcohol
4g (4,000 mg)
Protein
25g (25,000 mg)
*Percent Daily Values (%DV) are based on a 2,000 calorie diet
Daily Value Not Established.
Pea Protein
Typical Amino Acid Profile
Alanine
1,050 mg
Arginine
2,174 mg
Aspartic Acid
2,874 mg
Cystine
4,298 mg
Glutamic Acid
775 mg
Glycine
1,050 mg
Histidine
526 mg
Isoleucine
1,200 mg
Leucine
2,074 mg
Lysine
1,824 mg
Methionine
250 mg
Phenyalanine
1,324 mg
Proline
1,125 mg
Serine
1,274 mg
Threonine
1,000 mg
Tryptophan
250 mg
Tyrosine
950 mg
Valine
1,250 mg

Total Amino Acid 24,867 mg
Serving Size: 35 grams
Other Ingredients

Pea protein isolate, xylitol, natural vanilla flavor, and stevia.
Warnings

Notice to California residents
This product contains a chemical known to the state of California to cause birth defects or other reproductive harm. The above notice is due to naturally occurring traces of lead found in fruits and vegetables grown on clean non-contaminated soils. California requires that we notify you of this presence.
Keep out of reach of children. Store in a cool, dry place.