Natural Soaps & Lotions and Essential Oils
Experience the difference with our full line of therapeutic pure essential oils, certified organic essential oils and synergistic blends to suit your every need. We also carry diffusers, bath and body care products, candles, bottles and gift items.

Warning: Invalid argument supplied for foreach() in /mnt/home/includesAWS/buyNow.1.inc on line 15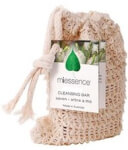 Cleansing Bar (Geranium or Tea Tree) by Miessence are natural soaps hand-crafted from organic cold-pressed virgin coconut oil from the Pacific Islands to provide a powerful clean for your washing needs. Cleansing Bar has no synthetic ingredients or chemicals.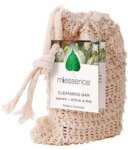 Geranium or Tea Tree Cleansing Bar by Miessence are hand crafted natural soaps made from organic cold-pressed virgin coconut oil. Cleansing Bar is free from chemcials and other synthetic ingredients to give you an all-natural clean.
---
† Statements on this website have not been evaluated by the Food and Drug Administration. These products are not intended to diagnose, treat, cure, or prevent any disease, but rather are dietary supplements intended solely for nutritional use.