New Chapter WholeMega Salmon Oil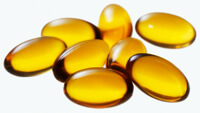 Whole-food, sustainable, 100 percent Wild Alaskan Salmon. The New Chapter difference shines in many ways, including our naturally pure whole fish oil. Our fish oil has the healthy Omegas you need for heart health and prenatal support.
---
† Statements on this website have not been evaluated by the Food and Drug Administration. These products are not intended to diagnose, treat, cure, or prevent any disease, but rather are dietary supplements intended solely for nutritional use.