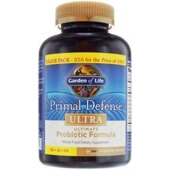 Primal Defense Ultra is the most comprehensive probiotic available today and was the by-product of years of research by myself and a team of scientists.  I believe so much in this product that I take it every day!
What makes Primal Defense Ultra so effective?
HIGH POTENCY – Primal Defense Ultra has a live cell count of 15 Billion at the time of manufacture
BROAD SPECTRUM -  Primal Defense Ultra contains 13 species of beneficial probiotics including Saccharomyces boulardii, the most clinically studied and effective probiotic available today
HSOs – Garden of Life has the only probiotics available with Homeostatic Soil Organisms which help support healthy lactic acid bacteria count
UltraZorbe Capsules - 100% vegetarian capsules to ensure potency, eliminate the need for fillers and binders, and provide quick nutrient release through faster dissolution into the body. Independent study suggests UltraZorbe™ capsules dissolve more completely than other vegetarian capsules.
BioProtect Packaging – This revolutionary packaging system guarantees optimal freshness and potency.