Ancient Nutrition Organic Medicinal Mushroom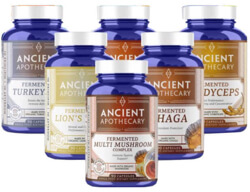 Organic Medicinal Mushroom from Jordan Rubin and Dr Josh Axe have a Full-Spectrum Fermented Multi Mushroom Complex, Fermented Warming Botanical Blend, Organic Ashwagandha Extract and an Organic Fermented Bitter Botanical Blend. Ancient Apothecary Fermented Multi Mushroom Complex is specially formulated for immune system support.
---
Sadly, we have all seen Christians fall by the wayside. People who at one time were walking with the Lord, but have fallen back into the life from which they were once delivered. We see this happen to new believers…
Drifting Away

† Statements on this website have not been evaluated by the Food and Drug Administration. These products are not intended to diagnose, treat, cure, or prevent any disease, but rather are dietary supplements intended solely for nutritional use.