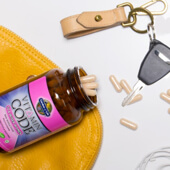 Garden of Life Vitamin Code Vitamins
No supplement can compare to the benefits associated with consuming RAW foods. If you have a nutritional deficiency or you just don't eat a healthy balanced diet you probably need to supplement to give your body the basic nutrition it needs to function properly. If you are going to supplement, you should seek out a RAW, Whole-Food multivitamin. The Vitamin Code is a multivitamin that was developed to provide supplemental nutrition as close as supplementation can get to actual RAW food. All Vitamin Code products are Raw, Gluten Free, Vegan and Dairy Free.
---
Romans 12 Over the years, I have found most of us are trying to determine God's will for our lives. We have come to understand, His ways are better than our ways and if we desire abundant life, we want…
The Will Of God

† Statements on this website have not been evaluated by the Food and Drug Administration. These products are not intended to diagnose, treat, cure, or prevent any disease, but rather are dietary supplements intended solely for nutritional use.