New Chapter Turmeric Products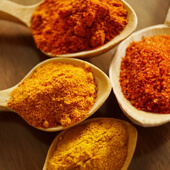 New Chapter Turmeric products help maintain a healthy inflammation response, cardiovascular health, as well as cognitive function and working memory. New Chpter's commitment to safe, effective and high-quality ingredients is what makes us who we are, and who we'll always be.
---
† Statements on this website have not been evaluated by the Food and Drug Administration. These products are not intended to diagnose, treat, cure, or prevent any disease, but rather are dietary supplements intended solely for nutritional use.