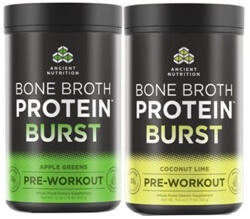 Bone Broth Protein Burst boosts energy and reduces Fatigue and helps enhance focus and mental stamina.
NEW from Jordan Rubin and Dr Josh Axe
Fuel your body, enlighten your mind and crush your health goals with the clean energy you can only get with Bone Broth Protein BURST—a pre-workout energizer powered by Ancient Superfoods, Adaptogenic Herbs and Organic Coffee Berry.
Not only does Bone Broth Protein Burst pack 8g of gut-friendly and paleo-friendly protein per serving, it also provides Bone Broth Co-Factors such as collagen, glucosamine, chondroitin, hyaluronic acid and key electrolyte minerals—to support the health of your gut, joints, muscles, skin and healthy detoxification.
---
† Statements on this website have not been evaluated by the Food and Drug Administration. These products are not intended to diagnose, treat, cure, or prevent any disease, but rather are dietary supplements intended solely for nutritional use.