Life Extension Multi Vitamins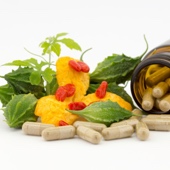 Life Extension Mix is a daily supplement that provides all the high-potency vitamins and minerals needed to form the cornerstone of a comprehensive health maintenance program. Our unrivaled formula saves time and money by combining the most important nutrients including unique vegetable, fruit, and botanical extracts into one product.
---
† Statements on this website have not been evaluated by the Food and Drug Administration. These products are not intended to diagnose, treat, cure, or prevent any disease, but rather are dietary supplements intended solely for nutritional use.