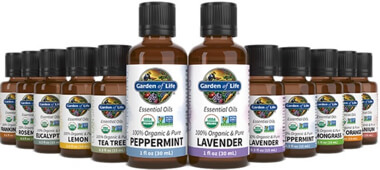 100% Organic & Pure Essential Oils - When only the finest will do, choose Garden of Life Certified USDA Organic and Non-GMO Project Verified 100% Organic & Pure Essential Oils.
Certified USDA Organic and Non-GMO Project Verified third-party certifications aren't easy to achieve, but well worth the effort to ensure that our essential oils are clean and without added carrier oils or synthetic ingredients.
Responsible Sourcing: Building a solid supply chain starts with sourcing the highest quality raw materials from native organic farmers that understand the dynamics of seeds, soil and conditions. For over 168 years, our sourcing partner's primary goal has been to provide pure botanicals.
100% Pure Extraction Methods: The key to capturing the aromatic essence and therapeutic benefits of essential oils lies in our pristine extraction process. Our unique organic extraction processes provide the assurance that our oils are of the highest quality, purity and efficacy. We ensure each batch of our oils is subjected to rigorous testing to ensure standards are met for authenticity, purity, potency and efficacy.
---
Romans 12 Over the years, I have found most of us are trying to determine God's will for our lives. We have come to understand, His ways are better than our ways and if we desire abundant life, we want…
The Will Of God

† Statements on this website have not been evaluated by the Food and Drug Administration. These products are not intended to diagnose, treat, cure, or prevent any disease, but rather are dietary supplements intended solely for nutritional use.