New Chapter Every Man One Daily 40+
All of New Chapters Multi-vitamins are probiotic and whole. The nutrient needs of men and women can be vastly different the same can be said for people under forty versus over forty. New Chapters formulation team takes exacting care with each nutrient and herbal blend in all of our targeted daily multi-vitamins to benefit the specific needs of the individual. New Chapter multi-vitamins are also Non-GMO Project verified and made with organic fruits and vegetables.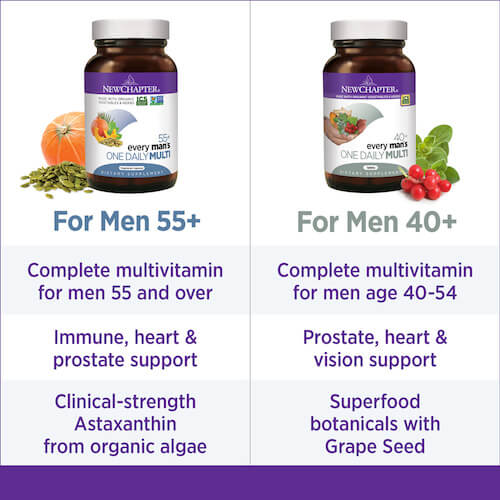 Men's multivitamin fermented with beneficial probiotics and whole foods - NO SUGAR ADDED
Convenient one a day multivitamin, gentle enough to take anytime—even on an empty stomach!
Multiple benefits for men 40+ include Stress Support; Vitamin D3 for Heart Health; Selenium for Prostate Health; B Vitamins for Energy Support
Clean, whole-food fermented multivitamin for men delivers Superfoods like Ginger, organic Turmeric & Saw Palmetto formulated for the needs of men 40 and over
Made with Certified Organic Vegetables & Herbs, Non-GMO Project Verified, Vegetarian, Kosher, Gluten Free, No Synthetic Fillers, No Animal Gelatin (added to some gummy vitamins)
Organic herbs and cultured whole-food complexed vitamins and minerals promote optimal health and condition-specific benefits, not just address nutrient deficiencies.* Each tablet delivers safe and sound potencies of 23 vitamins and minerals, including Vitamin A, Vitamin C, and Vitamin E.
If you're looking for the right multivitamin for men over 40, it's helpful to know there are differences between raw or USP multivitamins, gummy vitamins, and whole-food fermented multivitamins like New Chapter's Every Man's One Daily 40+. This whole-food fermented vitamin is made with quality ingredients you can trust—way more than just isolated nutrients, and free from the animal gelatin and sweeteners of gummies. Our unique multivitamin is fermented with probiotics and expertly formulated to deliver heart support, prostate support, and vision support for men's needs.* All New Chapter multivitamins are gentle enough to take anytime—even on an empty stomach.