Why take targeted probiotics for women's health?
Expertly tailored to multitask on your behalf, just one capsule daily helps support a healthy vaginal ecosystem with probiotics for women's pH balance. Women's Daily Probiotic is formulated with friendly DNA-tested strains Lactobacillus rhamnosus and Lactobacillus acidophilus in the clinically studied amounts: 10 Billion CFU.
What does Women's Daily Probiotic do?
You can count on this perfectly balanced probiotic formula to replenish healthy vaginal microflora. This promotes a slightly acidic environment (low pH) that naturally defends against problematic yeasts and infectious bacteria, and also protects the nearby urinary tract. These probiotics for feminine health also promote healthy immune function and gut health, which enhances your ability to absorb nutrients from food.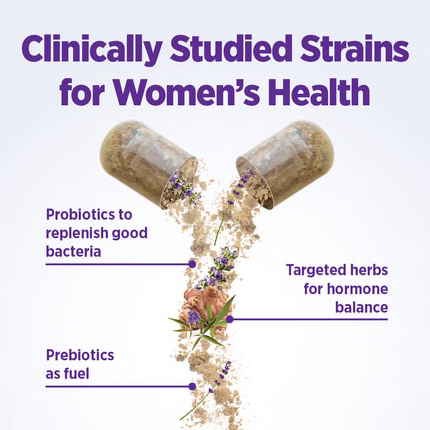 Our 3-in-1 complete system delivers:
probiotics to replenish gut flora and clinically studied to promote a healthy vaginal environment
prebiotics that are fuel for the probiotics
targeted herbs—with potent Chaste Tree to promote women's hormonal balance
Probiotics with a Purpose
These innovative, benefit-specific probiotic supplements harness the power of clinically studied live probiotics and add essential prebiotic fuel and beneficial whole herbs. Our high-quality probiotic strains are DNA-tested to assure identity and give you the exact, researched strain in amounts you actually need, every time. No megabillions and no laundry list of strains needed.
Shelf Stable until Expiration
No Refrigeration Required
Non-GMO Project Verified
100% Vegan
Gluten Free
DNA tested for identity
Certified Kosher
No Artificial Sweeteners, Flavors or Colors
No Synthetic Fillers
Building your supplement pantry? Check out our family of women's and men's multivitamins that are fermented for better nutrient absorption—find your multi match! Clinically Studied Strains for Women's Health: Probiotics to replenish good bacteria, Prebiotics as fuel, Targeted herbs for hormone balance.