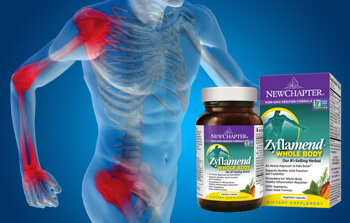 Zyflamend is an intelligent blend of full-spectrum herbal extracts containing hundreds of naturally occurring components. These whole, active phytonutrients work together to promote a healthy inflammation response.
Inflammation is a natural response process that affects every cell and organ in the body. Zyflamend promotes a healthy inflammation response that helps support joint health and many other body benefits. Zyflamend has been studied at leading research institutions and has been shown to benefit multiple areas of health.
The inflammation response is a natural healing process in the body - part of the immune system doing its job. There's an inflammation response we can feel, like in the neck, back or joints after exercise. There's also a "silent" inflammation response happening inside the body. We may not be able to feel it, but this inflammation can affect every organ and cell. That's why maintaining a healthy inflammation response is key for whole body health, including joint and cardiovascular health.
Zyflamend is the #1-selling, patented formula containing multiple full-spectrum herbs that support the whole body's healthy inflammation response. The formula represents a scientific breakthrough. Zyflamend Whole Body's potent herbal extracts are concentrated so a daily serving requires just two softgels - not up to 12 tablets like some conventional products. Because the inflammation response can cause oxidative stress in cells, Zyflamend delivers a host of powerful compounds with antioxidant properties. Our formula is backed by science: extensively researched and clinically tested. It's also backed by historical success - humans have used the herbs and spices in Zyflamend for thousands of years.
Zyflamend Heart Supporting a healthy inflammation response with Zyflamend Heart benefits cardiovascular health, helping to maintain heart and blood vessel health and function.* Zyflamend Heart adds to these benefits with the power of one of Nature's true super-foods, whole fish oil from Wild Alaskan Salmon. Our extra-virgin 100% Wild Alaskan Salmon oil contains the beneficial Omega fatty acids (good fats) that are the main reason experts recommend eating fish regularly. In fact, taking Zyflamend Heart every day provides the equivalent Omegas of three servings of Wild Alas- kan Salmon per week.‡ This can help balance out the ratio of good fats to bad fats in the body, supporting heart health.* The science is compelling. Clinical trial results show Zyflamend Heart's Omega fatty acids can reduce triglycerides in just 2 weeks, and also improve the Omega-3 Index, a heart health marker.*
Zyflamend Breast supports breast health by supporting a healthy inflammation response.* It also delivers key phytonutrients to support detoxification, breast health, immune function and natural hormone balance.* Studies show that eating Brassica vegetables, such as Broccoli, is closely correlated with breast health. Zyflamend Breast contains Broccoli sprouts, a form of the vegetable shown to have particularly high concentrations of the beneficial constituents that help detoxify and balance hormones.* Two capsules of Zyflamend Breast provide the phytonutrient equiva- lent of one serving of Broccoli a day. The formula also contains organic Reishi mushroom with important compounds called beta-glucans that support healthy immune function - to help maintain healthy breasts.* The Pomegranate in Zyflamend Breast provides punicalagin, a unique polyphenol that has powerful antioxidant properties. Taking Zyflamend Breast daily delivers the punicalagin of four Pomegranates!
Zyflamend Prostate delivers both inflammation response supporting herbs and a proprietary blend of other prostate supportive compounds - targeted to support healthy prostate function and normal urine flow.* Zyflamend Prostate's herbal blend has been shown in multiple research studies to significantly support prostate health.* Maintaining prostate health is a concern for every man. With age, the prostate tends to naturally increase in size, causing the urethra to narrow and urine flow to decrease. Zyflamend Prostate delivers the synergy of full-spectrum herbal extracts, including supercritical Saw Palmetto, Nettle Root, Green Tea, and Rosemary, which have been shown in vitro to together inhibit markers that may affect prostate cell health and normal urine flow.* The formula has also been shown in vitro to modulate regulators of prostate cell growth.* Zyflamend Prostate supports healthy function and healthy urine flow, making it the ultimate formula for prostate health support.*
Zyflamend is Nature's therapeutic botanical. Many of its herbs have been used traditionally to support human health and longevity in cultures around the world. Skullcap, Chinese Goldthread, Hu Zhang and Barberry are time-honored tonic herbs in the Chinese herbal tradition. You might recognize some of the other traditional ingredients in our patented formula as well:
Mediterranean: Rosemary and Oregano are native to this region. Zyflamend is a natural source of resveratrol, the heart-healthy compound in red wine - part of the healthy Mediterranean diet.
Asian & Indian: Turmeric, Ginger and Holy Basil are common elements in Asian and Indian wellness regimes. Green Tea is cultivated and consumed across this region - and revered for its many remarkable properties.
---