Detox and Antioxidants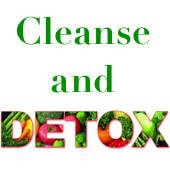 What are "free radicals"? Free radicals are oxygen molecules that have lost an electron in interactions with other molecules. As a result, these molecules are extremely unstable or reactive. Free radials steal electrons from other healthy molecules in order to try and heal themselves, creating more free radicals in the process. This leads to damage in cell components in our bodies. Free radicals are a by-product of normal bodily processes like breathing air and digesting food and external factors like sunlight, cigarette smoke, and air pollution. You can help to fight the effects of the free radicals with antioxidants (Like vitamin C and vitamin E) that capture or repair free radicals.
---
Romans 12 Over the years, I have found most of us are trying to determine God's will for our lives. We have come to understand, His ways are better than our ways and if we desire abundant life, we want…
The Will Of God

† Statements on this website have not been evaluated by the Food and Drug Administration. These products are not intended to diagnose, treat, cure, or prevent any disease, but rather are dietary supplements intended solely for nutritional use.