Women's Vitamins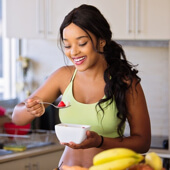 Not all multi-vitamins are created equal. In fact, many multi-vitamins on the shelf today are synthetic chemical isolates! Whole Food multi-vitamins can be taken on an empty stomach because they are they are more than just food supplements, they're supplemental food! Your health, and the health of those you love, are precious and deserve the finest nutritional support.
---
Sadly, we have all seen Christians fall by the wayside. People who at one time were walking with the Lord, but have fallen back into the life from which they were once delivered. We see this happen to new believers…
Drifting Away

† Statements on this website have not been evaluated by the Food and Drug Administration. These products are not intended to diagnose, treat, cure, or prevent any disease, but rather are dietary supplements intended solely for nutritional use.